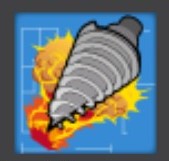 These are pieces of the MagmaBore which is the end game (for Frozen Factory) machine that gates the destruction of the CryoPlasm Spawners. It requires a large investment of raw/refined resources and power. The components are built in lots of 99 in order to facilitate not having to click as many times to fabricate the parts.
See Also MagmaBore.
Materials
Edit
(Requires blocks 3267 total for the completed machine, or 33 fabrications.)
Creates 99.
Research
Edit
Unlocked by MagmaBore(Research).