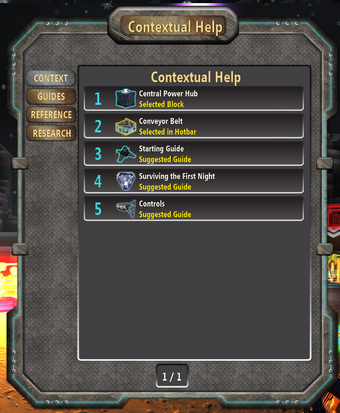 The Help Menu will give you in game information on all items as to what they are used for.
The Help Menu can be accessed by pressing the ' H ' button.
You can either look at a item and press H or whist hovering over that item in your inventory.
This will open the "Contextual Help" screen and from there you can choose what item you would like help with.
On the left there is 4 tabs you can choose from for even more help.
Context
Guides
Reference
Research
The help menu will only give you information for the stage that you are on. For example if you are just starting the game the only ore you will get information on is Coal Ore  .
Ad blocker interference detected!
Wikia is a free-to-use site that makes money from advertising. We have a modified experience for viewers using ad blockers

Wikia is not accessible if you've made further modifications. Remove the custom ad blocker rule(s) and the page will load as expected.