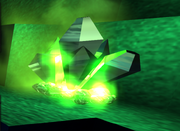 Gems occur naturally in the world and can most often be found in cave systems underground. They give off a strong light and produce an audible tone when you are near them. The triangle at the top of the
Ore Scanner
lights up with the color of any gem within range; follow the scanner noise to find gems.
There is a +-64m variance on their spawning range.
All gems can be used to create Focusing Lens of varying quality, which increase the energy transmission speed of the Laser Energy Transmitter as well Location Markers. In addition, some gems have other uses, as explained in the detail pages.
Ad blocker interference detected!
Wikia is a free-to-use site that makes money from advertising. We have a modified experience for viewers using ad blockers

Wikia is not accessible if you've made further modifications. Remove the custom ad blocker rule(s) and the page will load as expected.